Alendo Hotel
Blantyre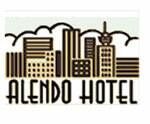 +265 1 821 886
+265 1 821 579
+265 1 821 923
P.O. Box 2673, Blantyre
About us
Alendo Hotel is situated in the City Centre along Chilembwe Road, in the commercial city of Blantyre only 15 KM from Chileka Airport. The Hotel is popular with corporate guests, holiday makers and conference conveners.

Accommodation
All our rooms are bright and refreshing, equipped with ensuite bathrooms, a satellite TV, and a comfortable working area. All these are designed to give our clients added comfort and value.

Conference Room
A stylish conference room with a sitting capacity of up to 50 people, is available for conferences, seminars and other occasions. our services are tailor made to suite your needs either business or leisure.
Bar & Restaurant
Enjoy the delicious dining on our a la carte or buffet menus in the relaxing ambience of the Kachere Restaurant. The restaurant caters for breakfast, lunch and dinner.
The Bar and Restaurant is open 7 days a week.

The Chefs Dishes
Our guests enjoy Malawian cuisines in the comfortable and relaxing atmosphere of the beautiful gardens that are evergreen.
The restaurant offers both traditional Malawian dishes and daily specials. Visit our website for more info www.mit.mw

.