CBR tours Travel & Resorts
Blantyre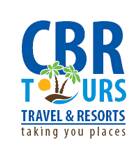 +265 1 832 228
+265 1 832 212
P.O. Box 2360, Blantyre
www.

About us
CBR Tours & Travel in Lingadzi House City Centre, Lilongwe and in Able House Ground Floor, Blantyre offers Unique travel services, for business executives, Individuals and tourists to local and international destinations.
We have selected new Toyota vehicles ideally suited to local conditions while offering the highest standards of safety, reliability and passenger comfort. Our Toyota  Hilux 4×4's paved roads with ease
We hand all IATA Accredited Airlines bookings and air ticketing to all destinations worldwide:
Business travel packages
Holiday Packages
VIP Business Travel Packages
Fly and Drive
Transit Accommodation
Passports & Visas
Travel Insurance
Event Management
Car Hiring
Tours Management, Local and Regional
Hotel Bookings
.