Crowe Malawi
Blantyre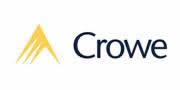 +265 1 831 605
+265 1 831 606
+265 1 831 607
+265 1 831 607
P.O. Box 31548, Chichiri Blantyre 3
About us
Crowe JW Malawi is committed to impeccable quality service, highly integrated service delivery processes and a common set of core values that guide our decisions daily.

Our firm is well-established as a leader in its national business community and is staffed by nationals, thereby providing a knowledge of local laws and tax regulations which is important to clients undertaking new ventures or expanding into other countries.

Crowe Malawi, member of Crowe International, is known for its impeccable professional service to privately and publicly held businesses in all sectors and has built a local and international reputation in the areas of Audit, Tax, Advisory and Risk.

Our Global Reach
Crowe International is ranked number 8 among the top 10 global accounting networks with more than 200 independent accounting and advisory services firms in 129 countries around the world.
In addition to our local and regional services, as a member of Crowe International, we can draw on a worldwide network of independent professionals and their know-how.
As a member firm of Crowe International we offer comprehensive, international expertise in a broad range of business consulting practices, including assurance, benefit plan services, corporate finance, risk consulting, forensic services, performance services, tax consulting, and technology.
This unique combination of our local and regional talent coupled with the global reach of our network provides us with the local expertise and global worldwide capabilities our clients expect and deserve.
.